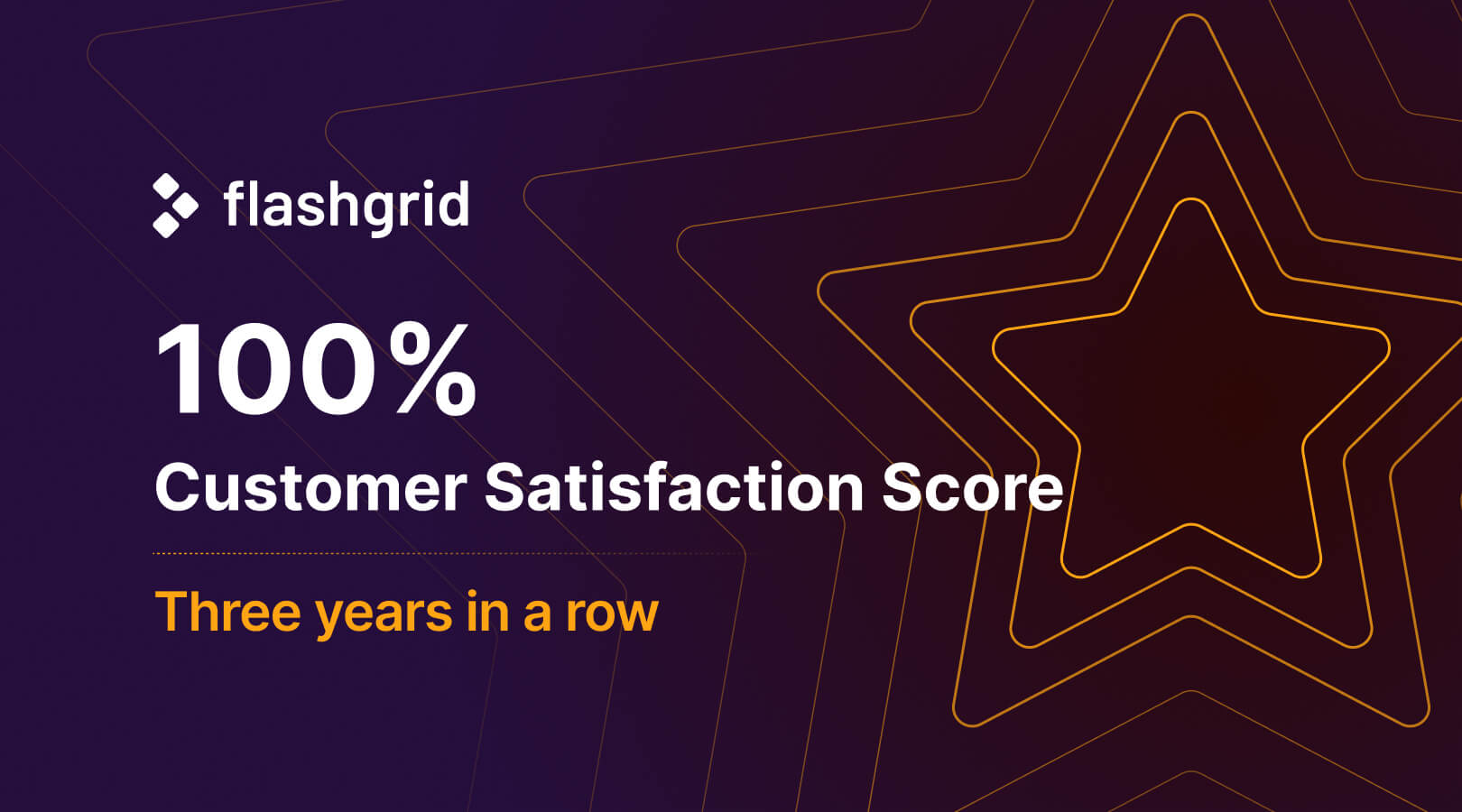 FlashGrid is thrilled to announce that for the third consecutive year our Customer Support team has achieved a perfect Customer Satisfaction Score (CSAT) of 100%.
CSAT is a direct measure of our Customer Support organization and reflects the entire company's dedication to serving our customers. To determine our score, we use anonymous surveys from Delighted, a trusted platform used by many high-profile companies including Uber, HP, GlassDoor, and Cisco. As a reference, an average score for software companies is 77.
This outstanding achievement is a testament to our unwavering commitment to providing world-class support and reliable solutions to help our customers maximize uptime and performance of their mission-critical databases.
Our global 24/7 support team covers all customer infrastructure, including:
FlashGrid software
Oracle ASM and Clusterware
Cloud compute resources, VPC networking, and storage
Linux kernel/networking/storage components
Performance
But you don't have to take our word on how great our support team is, here is what our customers had to say:
"FlashGrid support is always quick to respond to ticket updates and are very helpful with any issues or questions we have."
"Support tickets are handled in a professional manner with excellent response time."
"The team has always been responsive and provides excellent support."
"FlashGrid are proactive in notifying us about any potential problems."
These testimonials are a result of our team's dedication and expertise in providing excellent support. At FlashGrid, we are proud to be providing our customers with the solutions and support they need to succeed. We will continue to work hard to exceed their expectations and maintain the high standard of service that has earned us this remarkable achievement.
If you would like to learn more about technical support for running highly available Oracle databases on public clouds with FlashGrid, or have a specific question or issue, our expert team is here to help. Simply email us at info@flashgrid.io or open a support ticket to get started today! to get started today!
Explore how FlashGrid products simplify database infrastructure on public clouds, private clouds, and physical environments
See more